Louisville Truck Accident Lawyer
We Represent Trucking Accident Victims Across Kentucky
Have you been injured in an accident with a tractor-trailer, big rig, or other large truck? There are unique factors that need to be considered in truck accident cases that make them different than ordinary car accident claims. The trucking company has defense lawyers and a legal team of professionals who respond immediately to serious truck accidents and begin building their truck accident case.
A Louisville truck accident lawyer from Paul A. Casi, II, P.S.C. is ready to do the same for you. We will fight to get you the compensation you need for medical expenses, lost wages, and more.
Our personal injury team serves clients throughout Kentucky who are seriously injured or have lost loved ones in trucking accidents, using our experience to pursue maximum economic and non-economic damages.
---
Get experienced help by calling (502) 234-7451 or contact us online. Your initial consultation is free.
---
Identifying the Cause of Your Truck Accident
Any Louisville truck accident lawyer from Paul A. Casi, II, P.S.C. takes on all types of collisions involving commercial trucks; these cases often involve a wide range of causes and contributing factors. We know how to identify and expose negligent and wrongful acts to our clients' benefit, helping them seek the full and fair compensation they need.
Some of the problems that cause trucking accidents include:
Lack of training and inexperienced drivers
Poor maintenance of trucks, including brakes and tires
Driver fatigue and hours-of-service violations
Speeding over the limit or driving too fast for conditions
Drunk driving and driving under the influence of drugs
Safety system problems, such as issues with reflectors, lights and other warning devices
Failure to yield the right of way
Unsafe lane changes
Failure to check blind spots
Many of these causes can be attributed to a company's attempt to cut costs. Trucking companies don't want to invest in training or pay higher wages for more experienced drivers. They don't want to pay for maintenance. The longer drivers stay on the road, the more money they make, so they drive when they're tired. Unfortunately, serious accidents are often the result.
Most trucking accidents that occur in Kentucky and across the United States are preventable. The behavior and circumstances that lead to these collisions can be avoided if people and truck companies exercise proper caution and care. Unfortunately, mistakes are made and some truck companies choose to put profits above safety. Call (502) 234-7451 to learn more.
What Are Some Injuries Caused By Truck Accidents?
Accidents that involve semi-trucks, big-rigs, and tractor-trailers are not minor fender-benders. Even at low speeds, the massive weight of these trucks can crush smaller vehicles and cause debilitating injuries to their passengers.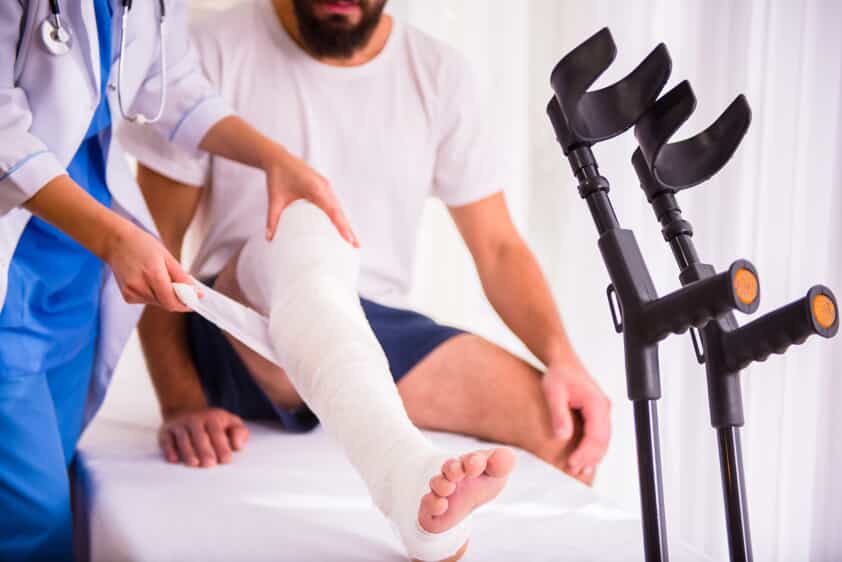 If you've suffered any of the following injuries in a truck accident, our Louisville law firm can help you seek compensation:
Back and neck injuries
Broken bones and lacerations
Loss of limb and crush injuries
Truck accidents often result in serious injuries, and you may need lifelong care. But this care is expensive. You should not have to deal with this financial burden in addition to the pain you have suffered. Our goal is to obtain compensation to cover medical costs, lost wages, and lost future earnings.
Why Truck Accident Cases Are More Complex in Louisville?
When you are in an automobile accident with a truck involved, you are dealing with a professional driver who is trained, whose industry is regulated, and whose truck is required to be maintained. As professionals, and due to the severe nature of truck accidents, they have specific requirements that they must meet.
The Trucking Industry Defense Association will have a team of people working on their side almost immediately after an accident. They will be gathering physical evidence and will be constructing their truck accident case right away.
Since truck accidents are typically more severe than other moving vehicle accidents, have more complex regulations, and often have a team of professionals working on the trucking company's side of the accident case almost immediately, it is important that you get someone with specific trucking industry expertise on YOUR side.
Our truck accident lawyers in Kentucky have decades of legal experience. We believe in using this experience to protect the rights of our clients, particularly in complex trucking accident cases. You may be up against considerable odds, but we are here to level the playing field so your rights are properly represented.
We're Known for Our Experience with Truck Accident Claims
Paul A. Casi, II is frequently asked to share his knowledge with other lawyers at legal conferences. He has been invited to speak on topics such as oversized truck and over-sized load accident cases, accident reconstruction, and black box data.
Getting results in these truck accident cases means going up against the big insurance companies that represent truckers and truck companies. These are major opponents. Our Louisville law firm has the experience to take them on in your accident case. Our truck accident attorneys in Louisville have over 35 years of combined experience to put to work for you.
---
Call Paul A. Casi, II, P.S.C. today at (502) 234-7451 to schedule your free consultation with a
Louisville Truck Accident Lawyer.
---